This Friday, February 15th, the JHF Cup will kick of Season 3 of JHF Football Manager eSports on the JHF_Gaming Twitch Channel. This is the first edition of the cup which joins the more established league competitions for season 3 and this will be the first time the Bidstack JHF SuperLeague and JHF Advance Division meet in the same competition.
Speaking about how the competitions came about JHF said "We started back in September 2018 after me and a few friends tried starting a few different Network Games but could not find one we could get into. Since then we have run 2 seasons with the third just about to kick off. Season 1 started with just the SuperLeague. After the success and interest grew we expanded to the JHF Advance Division as well, introducing Promotion and Relegation. Both times it ran with 10 teams in each league over a 36 game season"
"Season 3 sees another big step for us with the JHF Cup being introduced as well as an extended season moving us to 54 league matches with each of the 10 teams meeting 6 times. This should really allow the teams to build rivalries and consistency will be key."
JHF Cup
The two leagues work on a draft season with each manager having a completely custom made club inside a detailed custom DB. The whole JHF system is based in Monaco inside the game. All 20 clubs draft their 28 man squads and 1 Assistant Manager with no financial limits or other squad restrictions. The only rules are three players must be Goalkeepers and no player can play for more than one team. Draft week was kicked off with the SuperLeague drafting before the Advance Division fought out for the remaining players. There are no transfer windows.
Bidstack JHF Superleague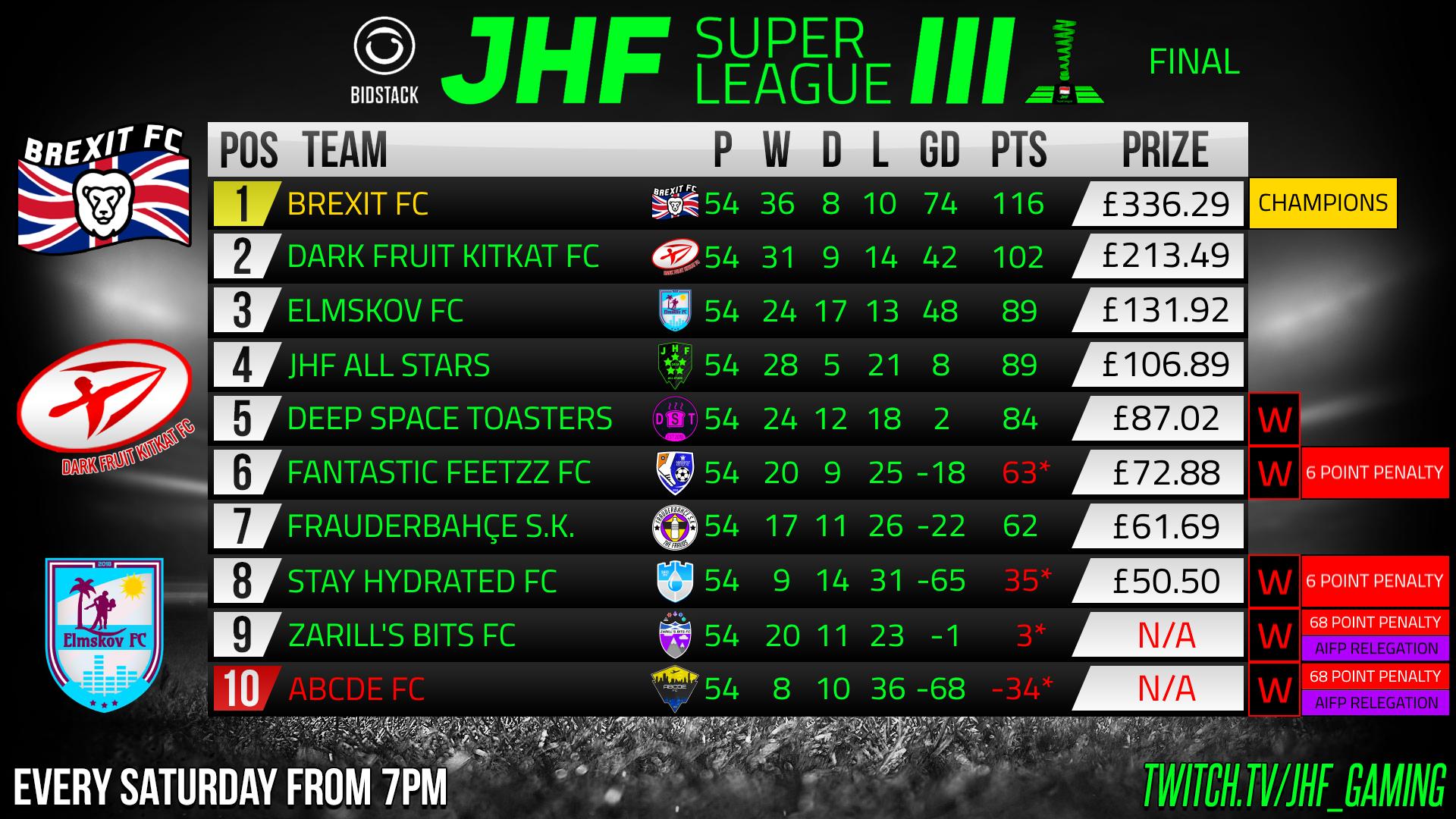 JHF Advance Division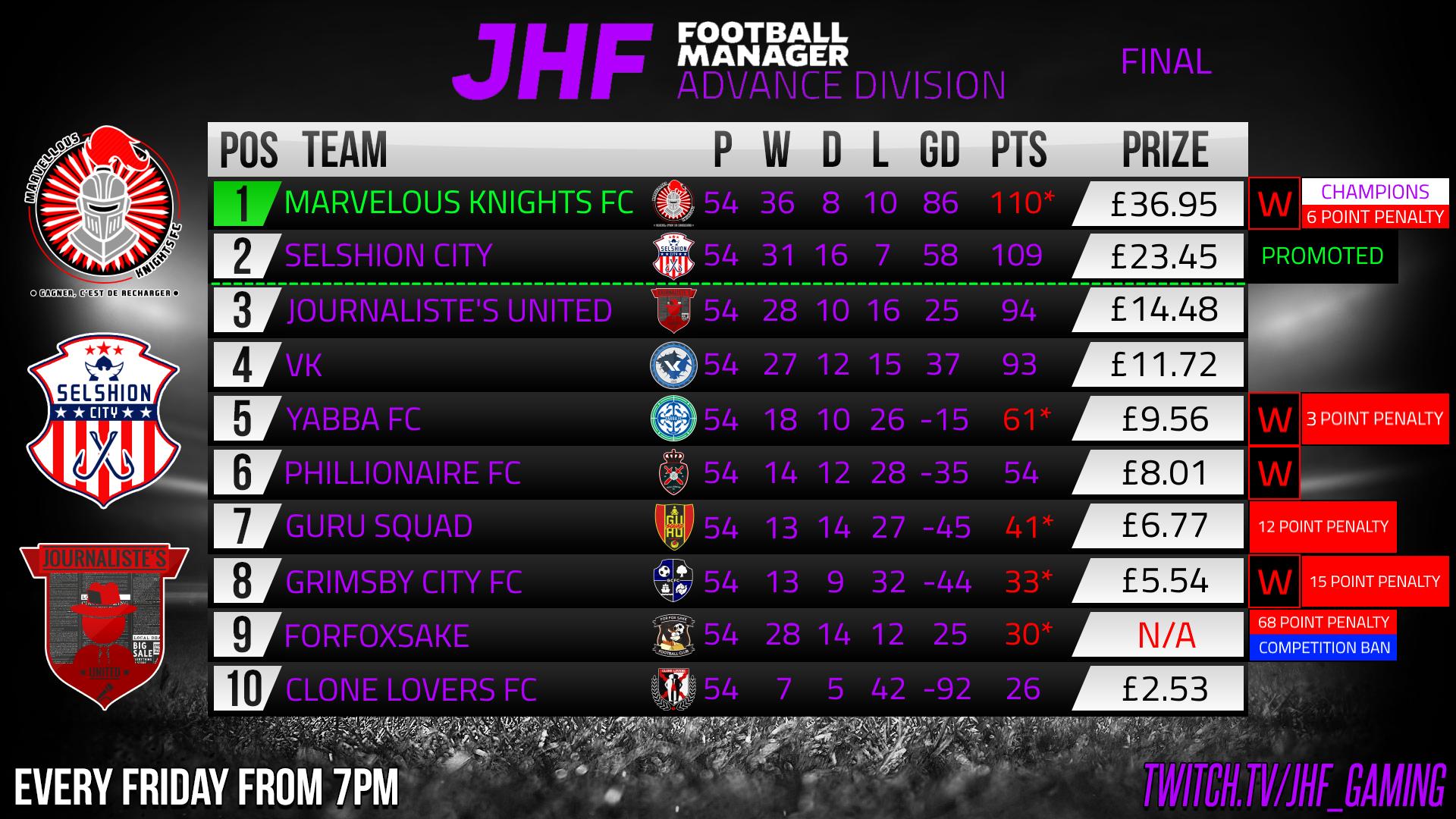 Asked about the future for JHF FM eSports, JHF said "Each season so far we have grown and I hope that continues as more and more tune in and want to be involved. In the short term, if demand continues and more people want to enter, I would look at expanding the Leagues from 10 to 12 clubs each with two teams being Promoted and Relegated each season, maybe even with a playoffs system. If demand really spikes I'd be happy to look at launching a third division and growing the pyramid system."
"The long term goal for me is to put Football Manager on the map as a legitimate eSport game. I think the game has major potential and honestly believe that FM could have an eSport scene that competes with Overwatch, iRacing and others. I really hope the JHF Leagues and Cups can be at the forefront of that going forwards. If I can get more sponsors involved and more players joining us the sky really is the limit. I would love to host a live "IRL" tournament or even take the SuperLeague on tour around the UK and Europe. Go big or go home is my motto!"
The JHF Cup kicks off from 1900 Friday (UK Time) with the JHF Advance Division broadcast live on Fridays at 1900 and the Bidstack JHF SuperLeague III live on Saturdays at 1900 all on Twitch at :
Twitch.tv/jhf_gaming